THE MORAYSHIRE BRANCH
ALEXANDER FINDLATER, DYKE
Alexander Findlater appears as the husband of Christian, daughter of Alexander Brodie of Brodie, whom he married at Dyke (the English word for Brodie) on 5 November 1665. He is described as 'Gardiner of Brodie' and his guarantor is John Findlater. When the Laird died in 1680, James Brodie his son notes in his diary that with his wife and with Alexander Findlater he laid out his father's body.
Although Alexander is described as gardener, this does not necessarily denote a servile status as this was an occupation which was highly regarded, just like that of mason, and indeed the Milnes, Kings' Masons, were knighted. William Burness, father of the poet Robert Burns was a gardener, but his first cousin was a Writer to the Signet.
James, born 1670, the third son of Alexr and Christian Brodie married Cecilia Home and became a merchant in Forres. He had three sons, William became a Burgess of Banff, James went to Jamaica and George went to Aberdeen.
William, born 1678, the fifth son of Alexr and Christian Brodie married Christian Waxter and stayed in Dyke, having two children, Margaret born 1700, and David born 1713. One assumes that as the elder sons had all moved away, it was he who carried on from his father in Dyke.
His younger brother George, born 1688, married Anna Fyfe. See the Findlater Sisters for their descendants. The way in which people moved about the North East of Scotland is well illustrated by the moves of George Findlater, eighth son of Alexr & Christian, who was based at various times in Old Aberdeen, Elgin, Peterhead and New Aberdeen.
Christian Brodie is stated in a family bible to have had 'a large family of sons, some of whom settled in the North and others went to the West Indies to settle' so she cannot have been of very advanced years. The last record of a birth to this family is Joseph II in 1696. If Christian Brodie was born in 1635 she would have conceived him at the age of 60. Therefore it must be assumed that she died and that her husband remarried. In fact a stray Alexander Findlater married Jean Davidson at St Nicholas Aberdeen on 26th July 1683, slightly over a year before the birth of his son Robert in December 1684.
THE FIRST OF THE MINISTERS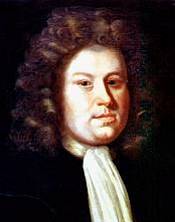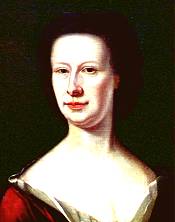 The eldest child of Alexr Findlater and Christian Brodie was Revd Alexander, Minister of Hamilton, who was born in 1666. Coming from a family of twelve, he himself had a family of ten, with one or two by-blows as well. He married well, Jean the daughter of Revd Thomas Kirkcaldy, the second son of the Laird of Grange. Only one son of Revd Alexander Findlater was a minister, Thomas who was minister of West Linton, Peebleshire. He was succeeded in turn by his son Revd Charles, who was later minister of Newlands, near Peebles. Two sons, Alexander and Robert were schoolmasters, Alexander in Montrose and then at Edinburgh High School, and Robert in Hamilton.
JAMES FINDLATER, THE FIRST EXCISEMAN
James (1716-1769), the youngest son of the Revd Alexander and Jean Kirkcaldy became a dragoon in the Royal North British Dragoons, now the Royal Scots Dragoon Guards (Carabiniers & Greys.) Born fifty years after his father, he married at Easter 1737 Helen daughter of Ronald Bannatyne.
He was then in Major William Erskine's troop. The RNB Dragoons were then on duties in Britain, mainly acting as supplementary mounted police and assisting customs officers against smugglers. As James and Helen were married at Coldingham, on the Berwickshire coast, one might assume that the Dragoons' main interest was smugglers.
He subsequently became an Excise Officer, based in Burntisland, where he appears on the Excise books certainly from July 1752 until July 1757. Most of their children were born there, the first being David who was baptised at Burntisland on 25th July 1748. He was on the Excise books in Kirkcaldy in June 1767 and June 1768.
His sons James, b 1737 and Thomas, b 1745 were born at Coldingham, the next child, Barbara at West Linton in 1746, while they were staying with his brother Revd Thomas. The other six children were born at Burntisland, Fife, except for Anna who was born in 1759 at Abbotshall, Fife.
Presumably from about 1747 James was an exciseman in Burntisland, a town under the influence of his mother's family the Kirkcaldies of Grange. He later moved to Abbotshall where the laird's wife was the sister of the laird of Grange and then to the town of Kirkaldy, again under the influence of the family of Grange. It is not too fanciful to see him using his mother's family to help him along, in an era where a man without influence was lost. Of their large family of sons, only Alexander, for whom see Alexander Findlater and Robert Burns, and John would seem to have had offspring.
DESCENDANTS OF ALEXANDER FINDLATER: JAMES
James was born on 9th August 1779, baptised Falkirk 12 September 1779, studied at Edinburgh University from 1797 and matriculated in 1801, then studied in the Medical Faculty of Edinburgh University in the sessions from 1800 and matriculated in 1804. He did not graduate. This was not unusual at that time when class-tickets were reasonable proof of completion of a course. He was commissioned into the Forfar and Kincardine Regiment of British Militia on 4th December in the 46th year of the Reign of George III, ie in 1805.
He married Mary Hewan (born Cupar July 1784) daughter of Captain Thomas Hewan of Buccleuch Place, Edinburgh on 2nd March 1805 (Parish of Canongate). He joined the Excise as a permit writer on 20th November 1820 following his father's intercession. He served at Ayr and Greenock and died, during his father's life, at Greenock 14th July or August 1826. At the time of his death he is recorded as being a permit writer in the Excise at Greenock. His widow Mary Hewan lived at Rankeillor St, Newington and had a large collection of Burns' original manuscripts.
ALEXANDER FINDLATER, the emigrant to New Zealand
Alexander (b.10th April 1810 d.15th November 1876), James' eldest son, was articled as a writer to Joseph Brasch of Edinburgh. It is said that he completed his articles but the family did not have the amount of the necessary fee for enrollment as a Writer to the Signet. He had several positions- managing the office of one Joseph Brown; Superintendant of Anderston Police; Manager of an Insurance Company; and Superintendent of Newington Necropolis (a cemetery).
It appears that Alexander was in correspondence with a cousin in Dublin who had made a purchase of land in the newly formed town of Dunedin. He is believed to have purchased an allotment of land from the N.Z company and embarked in 1849 from Granton for London to emigrate to N.Z. The family departed on the sailing ship "Lady Nugent" (Capt. J. Parson) and arrived at Port Chalmers on 26th March 1850. Alex obtained a position as Constable and there is a record that he made an overland journey to Fovaux Strait to take a census.
He married firstly Elizabeth Turnbull at Edinburgh on 28th July 1834 and at Dunedin secondly on 3rd January 1872 Elizabeth Alexander, nee Curry. (Dunedin is the Gaelic for Edinburgh so he was married in two towns of the same name on opposite side of the world.) Their second son was:
JAMES TURNBULL FINDLATER
The following is quoted verbatim from the memoir of the family by O W Oldham, son of Helen Napier Findlater and grandson of James Turnbull Findlater:
'James was nine years of age when the family landed in N.Z. He was apprenticed as a decorator and sign writer. My Aunt Mary, who as I write this, is 104 years of age, in a nursing home in Dunedin, told me that many people had their fire surrounds grained to look like marble and he earned a lot of money by doing such work. After his apprenticeship he became a prospector for gold, first in Dunstan, Otago and later in Hokitika (W Coast) where he met my grandmother Ann Winter. Ann lived with my family when I was about 12 years of age. I do recall talking to her, She told me that she was a young girl in her teens when they left Scotland for Australia. She mentioned sailing down the Clyde past the Ailsa Craig. I also sailed down the Clyde past Ailsa Craig en route for India in 1944 but that is another story. I did think of my grand-mother then and wished I had asked her more about the early days in N.Z
'I am indebted to my Aunt Mary for the following two stories. Ann's father was a stone mason and they were well off. Ann was educated in convent and at a social gathering met a young Italian man. To avoid an unseemly alliance Ann was whisked off to her married sister a Mrs Meg Sandilands in Hokitika where she met and married my grandfather, a most presentable young man but a penniless gold digger! They were married on 28th December 1866 at All Saints Hokitika by Archdeacon Harper. About 1871 the family moved to Dunedin. He then moved to Clinton where his sister Susy and her husband Albert Geddes had a railway tearooms. I have a recollection that one of James' daughters was an assistant at the tearooms and that is why they moved to Clinton. At Clinton about 1885 he was successful in a ballot for government land and secured a section on the Catlins River. I understand they were in residence very shortly afterwards.
'After my grandfather had taken possession of the section my grandmother left Clinton for the Catlins. This involved a rail journey to Balclutha; a journey by wagon to Owaka; by foot to the lake and a crossing by boat to the other side where the section lay. Albert Walter was a baby in arms. The landlady of the boarding house in Owaka was concerned that my grandmother was going into the bush without provision for milk for the baby. Eventually it was agreed that one of the boys would be left to work for the lady for a year in exchange for a cow. Much later the section was divided into two and one half passed to Alex the eldest son.
'The family were brought up on this farm incidentally called Craigannet after the Napiers ancestral home near Stirling. I would add that some time after my grandfather's death my parents bought Craigannet and that is where I spent my early years.'
James Turnbull Findlater and Ann Winter had fifteen children. The above information is from the memoir of O W Oldham, son of Helen Napier Findlater. Further information on this remarkably procreative branch of the family is in the discursive and eminently readable memoir of Alexander Napier Findlater (1904-1993), son of Alexander Findlater and Christina Proctor.
However, now we must return from the twentieth century in New Zealand to the eighteenth century in Scotland and to the younger brother of Robert Burns' champion Alexander.
JOHN FINDLATER, OFFICER OF EXCISE
John (1758-1809) became a Officer of Excise in Edinburgh, marrying Janet Dempster in 1789. Their first child, Helen, was born in Leith Walk, but he was transferred to Glasgow in 1791 and then to Greenock in 1800. Of their eleven children, seven were boys, but the only two who produced descendants were William and John.
WILLIAM FINDLATER, eldest son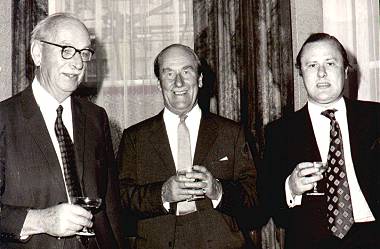 Herbert Maxwell Findlater, Quentin and his son, John Findlater.
William (1792-1881) started life in Greenock as a ship-broker, but moved to Londonderry. He was the father of Sir William Huffington Findlater, MP (1824-1906), who founded William Findlater & Co, Solicitors and who left Victor (1880-1957), an Indian army colonel, who had two sons, both colonels, Quentin (1905-1993) and Dick (1909-1964). Quentin left a daughter Mary (b 1947), unmarried, and two sons John (b 1940), a stockbroker, with three children and Patrick (b 1945), for long a director of Balfour Williamson, with a son Alexander. Dick had one child, Richard, who is a partner in Arthur Young's and has three children.
ALEXANDER FINDLATER, JP, the founder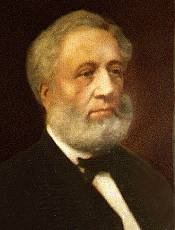 However the most famous of this family was Alexander Findlater, JP (1797-1873). As a lad in Greenock, he worked for his elder brother William in shipbroking. It is recorded that he saved the life of a child who was drowning in the dock.
He sailed for Newfoundland, where he was a merchant, before setting up as a wine merchant in Dublin, founding in 1827 the firm Alexr Findlater & Co, which he ran with his youngest brother Adam Seaton (1808-1879). Alexander never married, Adam Seaton married but had no children.
Their sister Susanna, widow of Captain John Snowden (d 1847) kept house for them at The Slopes, Kingstown (now Dun Laoghaire.) Having no direct succession, they called over from Liverpool the family of their brother Captain John on the death of his widow in 1837.
CAPTAIN JOHN FINDLATER
Captain John (1802-1836) became a Master Mariner and sailed out of Liverpool. He was brought up in Greenock, a sea-port. By the age of twenty-five, he was already a mariner, and is so described in his marriage lines.
Home from a voyage in 1827, he determined to wed Mary Ann Hughes before sailing off again. He had no time to have the Banns called and in any case, as she was under the age of twenty-one, she would need the consent of her father, which would not be forthcoming. So on 16th April 1827 he travelled the forty miles to Chester, to obtain a special licence from the Bishop. This would allow the marriage to take place without Banns, both reducing any delay and also avoiding any publicity, both important considerations in this situation. He himself was of full age, being born in 1802, but he represented to the episcopal courtier who issued the licence that Mary Ann was also of full age; expedient but not true. At all events they were married two days later on 18th April at Christchurch, Hunter Street, not by the minister, but by the curate, perhaps again to ensure secrecy.
It is interesting to see that Mary Ann's sister Ellen was also married at Christchurch in the following year, also under age, in fact at only 16. However the misrepresentation of Mary Ann's age would not invalidate the marriage ceremony, as the theological position was and still is, that if they truly believed themselves to be marrying, then they were truly married before God.
The first child John was born in the following year. The first three children were born in Liverpool, John in a very small house in Wolfe Street, Toxteth Park and Helen and Joseph in a slightly larger house in Eldon Place near the docks just north of the city centre. Both houses have been demolished, but it is clear from the street plan than they were not big. But we must remember that at the age of twenty-five not many of us live in large houses.
In 1834 he became a partner in the purchase of the brig the James Laurie. This had been a Spanish schooner, called the 'Volez Mariana', sequestrated as a slave-trader. He bought it jointly with John Claypole, described as a shipowner. Claypole held thirty-three shares and Findlater, now described as Master Mariner, held thirty-one. There are two bills of sale dated 26th July 1834 showing that they bought the schooner from John Hamilton, a merchant in Freetown, Sierra Leone, by his attorneys James Laurie, William Hamilton and James Rutherford Laurie, all merchants of the City of London. Presumably the new name of the ship came from one or more of these attorneys. However on 6th March 1835, less than a year later, Findlater sold his share in the ship to Claypole. This was probably after the expense of lengthening and refitting the schooner as a brig.
The James Laurie is shown in the 1836 edition of Lloyd's Register as being 'Ship: Laurie Bg (brig), missing c 1835; Master: Findlater; Tons: 166; Build: Prize, O.P.P & RP (oak, pitch pine and red pine) len. (lengthened) & nearly rebuilt (18)35 Restored 1835; Port: Liverpool; Destined Voyage: Liv. St. Tho.; No of Years first assigned: - 4 yrs; Character for Hull & Stores: A1 (18)35'.
From the Bill of Entry of the Liverpool Customs dated Saturday January 3, 1835, in the Ships loading section we find 'Dec 23; Nassau; James Laurie; J Findlater; B 166 G; J Claypole'. It was on 27th March 1836 that he was lost at sea off the island of Abaco, Little Bahamas near Nassau when the James Laurie went down with all hands. He was aged only thirty-three.
His wife Mary Ann was left with the four tiny children and was herself suffering from consumption. She moved to the Wirral, just on the other side of the Mersey from Liverpool and settled at Seacombe, near her sister (name still unknown), who had married Hugh Gorman. Probably she lived there for the clean atmosphere, in what was then a genteel and desirable area. She died of consumption the following year on 19th December 1937. She was only thirty and the four children were left orphans, aged from four to eight years old.
JOHN FINDLATER, JP
They were brought up by their Aunt Susanna, the wife of John Snowden, who was also a Captain like their father. Alexander the Founder is recorded making regular payments to Susanna.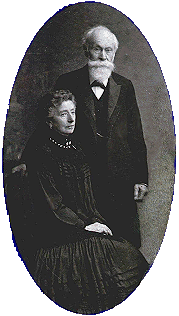 The elder son John (1828-1908) was trained up to run the firm, while the second son Joseph (1831-1912) ran the London office with his first cousin and brother-in-law, Col John Findlater Corscaden, who had married the elder daughter, Helen. Neither Corscaden nor Joseph had children, so they took into partnership Bruce Beverley Todd, whose descendants ran the firm, which was incorporated as Findlater, Mackie Todd & Co Ltd, until they sold out in 1968.
John Findlater, JP (1828-1908), nephew of Alexr the founder, reigned for thirty-five years in Sackville Street from 1873 to 1908 when he died at the age of eighty. His eldest son Adam Seaton II (1860-1911) followed for a few years but died aged 51 and then his fifth son William (1867- 1941) handed over in turn to his son George Dermot (1905-1957), who handed over to his son William Alexander (b 1937). The firm was sold in 1968 to Weston's and Alex refounded the business as Findlater Wine Merchants Ltd in 1970. Alex had two sisters, Grania and Suzanne, and a younger brother, John, who worked for Guinness, married and has two sons, Jan Willem and Stephen, who will carry on the line in Ireland.
John Findlater, JP had a large family, six sons surviving to manhood and two daughters, both dying unmarried. Adam Seaton ran the firm but died in 1911 aged 51; John went to Texas; Alexander became a doctor in Edgware; William stayed put and took over on the death of his eldest brother; Charlie was unmarried and killed in 1916 in the Somme and Herbert Snowden, named after his Aunt Snowden, was also killed in the Great War in 1915, as one of 'the Pals' at Suvla Bay, Gallipoli.
Dr ALEXANDER FINDLATER, DSO, MD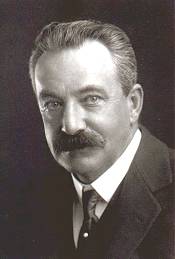 Alex Findlater, the third son, trained to be a doctor. He graduated from TCD in 1880 and gained his MD in 1883. Alex married a great beauty, Emmie Donnelly and had an only daughter, Helen, who never married.
Dr Alex was a man of short stature but considerable presence and was much loved. Initially he practised in Aldburgh, Norfolk, where Helen was born. He then moved to Edgware, Middlesex. He was greatly respected, for he practised before the introduction of the NHS and as often as not made no charge to his poorer patients even ordering a quart of milk to be sent from the farm when he felt it necessary. When the NHS was introduced in primitive form he counted it a bonus as his paying patients more than quadrupled.
Bernard Shaw, then in his hey-day, tells the tale that when cycling in the locality, he fell off his bicycle and being treated by Dr Findlater, recognised a fellow countryman and explained that his name was Bernard Shaw. The doctor replied laconically that his name was Alex Findlater. This impressed Shaw enough for him to write an article on it in the Saturday Review.
On the doctor's death in 1931, the route to the funeral cortege was lined for over two miles by most of the inhabitants of Edgware and in 1976 he was still remember. written by Alexander John Maxwell Findlater
HERBERT SNOWDEN FINDLATER and his descendants
Return to Findlater Genealogy