HERBERT SNOWDEN FINDLATER and his Descendants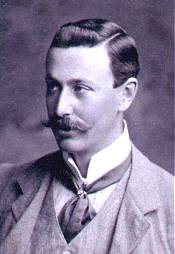 Herbert Snowden Findlater was educated at Strangeways School and Trinity College Dublin. He took articles with William Findlater & Co, Solicitors in Dame Street, the firm founded by Sir William Findlater. He then put up his own plate and shared chambers with the Taxing Master, later joining the firm of Hoey and Denning, Trinity Street.
Herbert and Evelyn enjoyed a gay social round and were ardent members of the Kingstown Gilbert & Sullivan Society. A photograph exists of Herbert as Sir Marmaduke in the Sorcerer in 1898. Dressed in wig, cut back military jacket and knee breeches, he shows a well-turned leg and handsome demeanour. Miss Dolly Byrne as Lady Sangazure clearly has no trouble with him. He was also a keen member of the Royal Alfred Yacht Club and sailed his boat, the Challenge, in Dublin Bay. His brother Charlie made a model of it for his son Max to sail and this is still in my possession.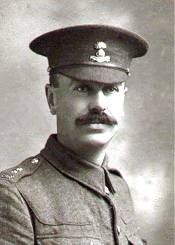 He was also a keen footballer, being a member of the Monkstown Football Club. It was through this that in 1914 he joined the 'Rugby Football Company', for along with most of the young professional men in Dublin, he and his brother Charles enrolled in the 'Pals', D Company of the 7th Royal Dublin Fusiliers. They were sent to Gallipoli, and he went missing, presumed dead, on Chocolate Hill, Suvla Bay on 16th August 1915.
Because Herbert and Evelyn had enjoyed a high standard of living, without having built up any significant capital, the family were left in a very poor way. If Herbert had had time to build up a big practice, of course, things would have been very different. When Herbert Snowden was posted missing, Evelyn being herself English, returned to Cheshire, with her two sons and her mother who had originally come from that area. Evelyn received an allowance from her mother-in-law and benefited under her will, but the sums involved were not great.
Evelyn died of a heart attack in the street in Liverpool in 1937. According to her wishes Max scattered her ashes in the Irish Sea, so that she was buried between her two homes.
She was a firm character and always very well turned out. Marjorie Mitchell remembers that before the First World War Herbert and Evelyn kept a good house and gave a beautiful party for her coming out in 1913 and that even after Herbert's death, whenever Evelyn returned to Dublin, she always had the best quality clothes and well-matched accessories despite her poverty. This poverty must have been relative at least in later years, for she had a car when such machines were a comparative rarity.
The Thompsons were a North Yorkshire family. Evelyn's father Frederick had been the youngest of five brothers and had moved to Cheshire with his brothers John and Charles. John Thompson was a much respected member of Chester society, a founder member and chairman of the Dee Oil Company. From 1856 to 1878, Frederick and Charles had the lease of a farm and coal mine in Harwarden from William Ewart Gladstone. They also went into business as brickmakers although that appears not have been successful.
Frederick married Mary Eliza, daughter of Dr Moffat. They moved to Dublin where she met her husband. The Maxwell Moffats were an old Scots family and she could remember being taken to Dumfries from whence her father came to hear her cousin's claim to the Maxwell earldom of Nithsdale be adjudged. This cousin and his brother died childless and so the Maxwell name has descended to the Findlaters, Evelyn bearing the name and passing it on to her son, grandson and great-grandchildren.
Frederick Thompson and Mary Eliza Maxwell Moffat, his wife, had an elder daughter Minnie and one son Gordon, who became a doctor, but both died comparatively young. Gordon married, but he had no children, so although Evelyn was therefore the only surviving child, it brought no money to her, for Frederick had been bankrupted.
MAXWELL of STROQUHAN
Evelyn was descended from the Dumfriesshire family of Maxwell Moffat of Stroquhan. They are part of the great border Maxwell family, headed until attainted after the 1715 rising by the Earl of Nithsdale, who was also Lord Maxwell and Chief of the Maxwells. There is an interesting story about Edward Maxwell, who was the son of Stroquhan in 1715. Maxwell of Stroquhan was a cousin of Lord Nithsdale, who joined the rebellion at Moffat, very late, having missed the gathering at Aboyne. At his trial for treason, Nithsdale said that he joined with four personal servants only. As the younger of Stroquhan would at this time have been in his teens, I think that he might have gone as a sort of page, although I see from accounts of the prisoners that a number of the Maxwell gentry were involved. It was not uncommon for a son to follow the Pretender, while the father kept the family estate warm, so that they could bend with the wind.
The story goes that " He was a very strong man. A court martial was being held in a large barn near Preston for the trying of prisoners of lesser degree. When Stroquhan was being marched up to the barn he noticed several horses tethered together a few yards from the entrance, and one horse particularly attracted his attention from its fine appearance. He was preceded by a soldier, followed by another, and had one on each side of him all close together. After advancing a few steps, he suddenly seized both the soldiers on each side of him by their necks and knocked their heads together, at the same time kicking out behind, he struck the other soldier in the stomach and so floored all three. The soldier in front tumbled over those already on the floor. So he had a good start for the horses, and whipping out his knife he cut the rope which tethered the horse, jumped on its back and was well off before the alarm could be raised.
"He took to the open country between Preston and Fleetwood where he was sharply followed by a number of troopers. His horse being a good one kept well ahead and the pistol shots fortunately fell wide. He at last came to a bend in the stream, broader than usual. If he did not cross, he would be taken, as the troopers were pressing behind and on each side of him and there was no other way of escape. Encouraging his horse, he put him to the jump and cleared the stream. None of the troopers would attempt it and as it was more than a mile round to any other crossing, he got clear away and soon found a hiding place amongst the gentry of North Lancashire who were all favourable to Prince James and of the Roman religion. Ultimately he escaped and joined Rob Roy." Gilbert Maxwell of Stroquhan, his father, was a trader in black cattle, so would have known MacGregor. Sir Walter Scott had a dagger and purse which had been given to Maxwell of Stroquhan by Rob Roy MacGregor; these are still at Abbotsford.
Edward Maxwell married the daughter of John Kennedy of Bankend, who was a Quaker. Kennedy of Bankend was a cadet of Kennedy of Auchtyfardle, although wealthier, having acquired Bankend by marriage with a Symington heiress. Grizell Kennedy of Bankend was orphaned in 1715 aged four by her father's death. In June 1716 her uncle Gilbert Maxwell of Stroquhan was appointed her tutor (guardian) and it was not until 1721 that she eloped with his son Edward, when she was 10 and Edward was probably in his early 20's.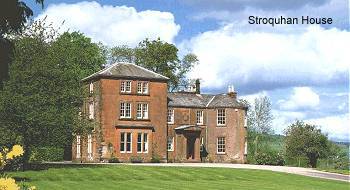 On her father's death, she had been settled in a school in Lanark, but Gilbert, her tutor, removed her in June 1718 and kept her at Stroquhan, allegedly without any suitable education or aliment. In 1721 the couple took two horses from Stroquhan and together with two of Gilbert's drovers, who were presumably to act as witnesses, crossed the border into England and were there married. That the marriage was valid must be true as it was only impugned by the Kennedies on grounds of Grizzel's age and they would certainly have attacked it on any ground available. After a week or so the couple returned as man and wife.
The Kennedys objected in the Court of Session and the plaint is signed by a large number of uncles and cousins, including those of the Auchtyfardle family. The Maxwells kept her out of the way until she was 12 and Gilbert spent most of 1722 in the Edinburgh Tolbooth, so she must have been a worthwhile catch. It seems that Gilbert's wife, Mary McMin, was sympathetic, if not the moving force behind the scenes. In March 1723, a reward of £50 was offered in the Edinburgh Courant for the arrest of Grizzell Kennedy, or £100, if found in England. By now the couple were hiding with friends in the depths of Galloway. By the end of 1723, the Court lost patience and sentenced Gilbert to six month's imprisonment and a fine of £150 sterling for attempting to hinder justice, but the marriage was allowed to stand as Grizzell was 'viri potens'.
By now it was safe for the couple to surrender themselves to the Court. Grizzell asserted that she was the initiator, "I will explain it all, my Lord, in a few words. I was out riding in the afternoon, unattended, when I happened to meet the younger of Stroquhan on the road. We walked and talked together, then I said, 'get up behind,' and I rode away with him and did not stop until long after dark and in a strange country, so what could he do but marry me?" The Judge, looking from one to the other, said to the lady, "You look like it. I quite believe you. You were wrong to do so, but under the circumstances, as the marriage is suitable, I will impose no penalty." Clearly a lady of some personality.
It is noteworthy that Edward and Grizel eloped in 1721, but their son Edward was not born until 1727. However he was the only son living in 1732 when Grizel, now 21, disponed of the Bankend lands, as this is specifically stated in the deed. It would however be consistent with her not being of child-bearing age until she was 16. The other curiosity is that there was a gap until 1737 when the other three children were born.
HERBERT MAXWELL FINDLATER, ERD, MA, FRGS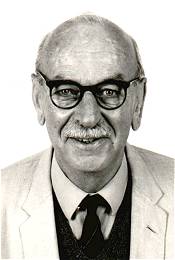 Herbert Maxwell Findlater was born on 25th February 1905 at Sunnyside, Glenageary, Kingstown, Co Dublin, the elder son of Herbert Snowden by his English/Scottish wife Evelyn Maxwell Thompson. He married Mary Barbara Dawson on 3rd April 1948 in the chapel of the Nautical College Pangbourne and died on holiday at Barnstaple on 9th April 1977. They had two children, Alexander John Maxwell Findlater, born 28th January 1951 and Helen Mary, born 15th August 1953.
When Herbert Snowden Findlater was posted missing in 1915, Evelyn returned to Cheshire, with her mother who had come from that area. Herbert Maxwell Findlater was educated at Birkenhead School and Liverpool College, taking a Kitchener Scholarship to Sidney Sussex College Cambridge, where he read History and Geography. Failing the Army entrance on his eyesight, he taught initially at Liverpool College, then, much to his mother's distress, at Cranbrook in Kent finally moving in 1934 to the Nautical College Pangbourne. He joined the Army Reserve in March 1935 and was mobilised at the beginning of the war. He served in France, Africa and Italy, as well as in London. He was eligible thus for the Army Reserve Decoration (ERD).
Having met his wife Mollie at a wedding before the war, he had left his signet ring for her, in the event that he did not return. Shortly before the war, he had bought the Glebe Cottage, Bucklebury, Berks, which was only sold after her death in 1994, thus remaining the family home for fifty-five years. Both children were born there, but there was a period from 1955 to 1963 when they lived at Pangbourne, as he was a housemaster. He was head of Geography and Second Master. He did consider taking a headship in the late 50s, but this did not happen, possibly because he valued his life as it was too highly, but certainly because he lacked that hard streak of ambition which is needed to succeed in the outside world. After retiring in 1967, he spent more time on voluntary activities, the Conservative Party, the Newbury Arts Festival (not a success), and the Council for the Protection of Rural England.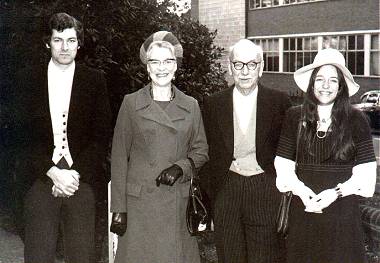 He suffered from circulatory disease and had a number of operations on the arteries in his legs. He died of a heart attack while spending Easter in Bideford, North Devon with his family. He had no love of money, but based his life entirely around his family and especially his wife Mollie. His character was straight and his code of conduct strict, but this was tempered by a deep understanding of the human mind and by an infectious sense of humour, exemplified by his fund of Irish stories.
The son Alex is married to Hattie Hyde Parker and has two daughters Frederica and Leonora, the daughter Helen, who is a teacher like her father, married John Keelty, who is a senior Inspector of Taxes. They have two children, Catherine (b 1984) and Christopher (b 1985). Thus are the brief details.
JOHN GODFREY FINDLATER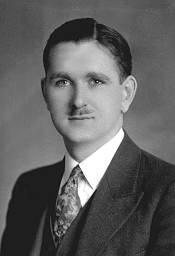 The second son of Herbert Snowden and Evelyn Maxwell Findlater, John Godfrey, was born on 29th March 1908. He had the same upbringing as his brother, but left for Canada at the age of 17. He married Helen Dumbrille on 26th December 1930.
John attended Kemptville Agricultural College when he first arrived in Canada, but as it did not suit he moved to work for Eaton's, a department store group. This was interrupted by war service with the RCAF until 1946. The story is that when in England, he went to Bucklebury and approached his brother with the words, "If you're Max Findlater, then I'm your brother." A good line. He subsequently bought a village store, for a love of the simple life, which Helen did not altogether share, although the daughters loved it. He was called up for further military service in 1953 and discharged in 1956, when he took Holy Orders. His last parish was the Church of the Redeemer in Kingston, where he died after lunch on 29th January 1980, having administered 21 bedside communions that morning.
He had two daughters, Barbara, born1936 and Sheila, born 1938. Barbara lives in Scarboro, Toronto, with her husband Stan Taggart and has a son John and a daughter Elizabeth (Biz), who both have children. Sheila lives in Kingston, Ontario with her husband Danny McLeod. By her first marriage to Allan Derrick, she has three children Debbie, Donna and Doug. All three have children, but Donna died in 1997 from cancer.
written by Alexander John Maxwell Findlater